HOME
Welcome to the 'Z Golštýnů' kennel websites

The kennel's name derives from Golštýn - a hill north-east of Alojzov village. It's a beautiful nature area lying on the border of a hunting district Určice – Myslejovice in Prostějov region. We have started hunting and hunting cynology there and we still keep doing that, so this place is undoubtedly associated with many memorable hunting experiences for us.
The breed of German Shorthaired Pointer has been present in our family since 1965, but at that time called 'Z Pilavy' kennel founded by Vít Mazal, an eager hunter who devoted all his life to gundog cynology. Later his son, Ing. Jaromír Mazal became the successor of 'Z Pilavy' kennel.
Once our first female German Shorthaired Pointer Elza z Pilavy, became a new member of our family, it was decided to continue breeding GSP within the newly formed 'Z Golštýnů' kennel, founded in 1999. Although we have often tried to mate Elza, our dream of litter, and thus the successor of this incredible water dog, has never come true.
Therefore, Gora ze Žandovských vrchů, becomes the founder of our kennel. We collected her from Hetlín near Zbraslavice in the spring of 2007. So far Gora has had four litters, successively in 2010, 2011, 2013 and this year 2014.
In 2011 we decided to keep from "B" litter female puppy called Brita - the lightest one. In 2014 Brita had her first puppies from the litter "E" and in 2015 puppies from litter "F" were born.

The aim of 'Z Golštýnů' kennel is to breed dogs suited for hunting that are excellent not only in hunting abilities, temperament, and innate taste to retrieve, but are also controllable, mild-tempered and calm after the shot. Puppies that come from our litters spring from such pedigrees, so that they are suitable for experienced trainers as well as for beginners who haven't had any experience of training gun dogs yet.
The family meeting

In photography you cen see the meeting of German Shorthaired Pointer kennels in our family, i.e. Z Golštýnů and Z Pilavy. In photography from the left there are: Gora ze Žandovských vrchů, Brita z Golštýnů, Gita ze Žandovských vrchů, Jola z Pilavy. The photography was made on 24. 12. 2014.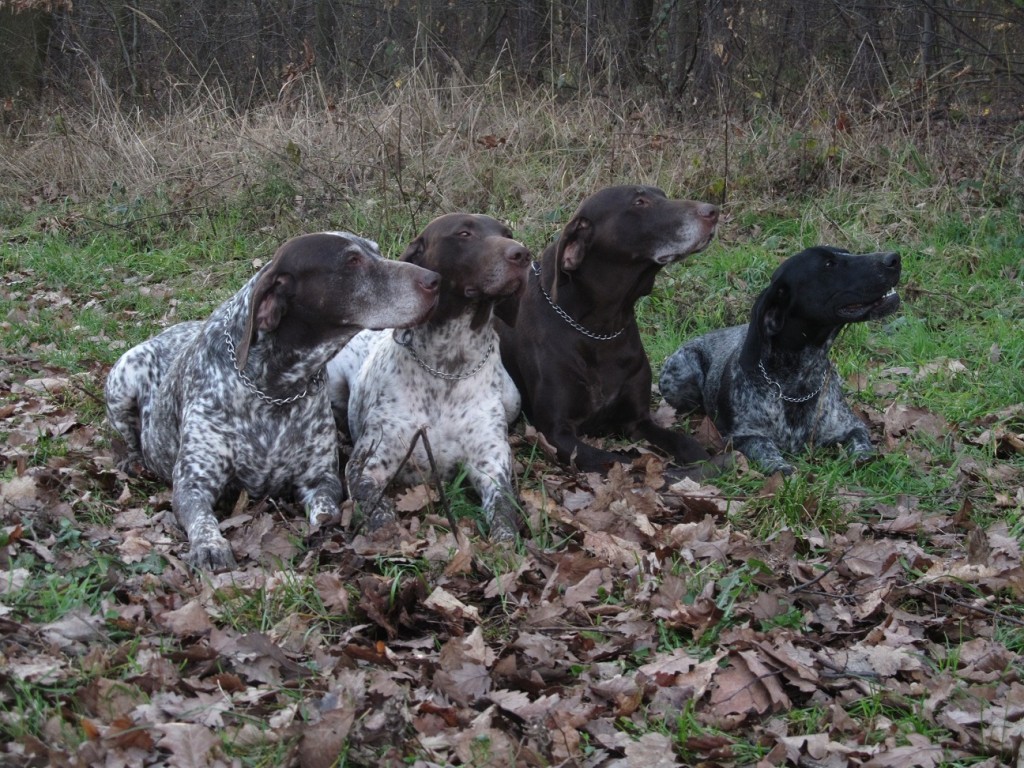 We also try our children head towards love to nature, gamekeeping and of course to hunting cynology... We wish them to be so enthusiastic about it as long as possible :-)
From history...
The first dog, who came to our family in 1979, in the same year, when the owner of Z Golštýnů kennel was born, was Bora z Mezivodí (1979-1985). This bitch during her short life, impressed in children´s mind and brought first cynology experience. She influenced a lot the sire D. Fajt, the future owner of Z Golštýnů kennel. Look with us on several archive photos.